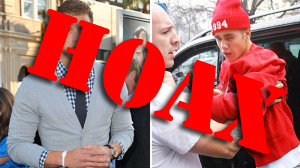 On Monday, Empire Sports, which appears to be a satirical sports blog, claimed that Bieber and Griffin were involved in an altercation at a West Hollywood Starbucks. According to the report, Bieber "snapped" after a barista refused to serve him because he wasn't wearing a shirt.
Citing a "police report," the blog claims that Bieber verbally assaulted the barista and threatened to order a bodyguard to "kick his ass." Next, Empire Sports said that Griffin, whom it alleges was sitting in the same Starbucks, attempted to calm Bieber down.
When the pop star refused, Griffin allegedly slapped him. "He smacked the s–t out of him," a witness allegedly said, according to Empire Sports' report.
The fact that Justin Bieber simply can't seem to keep himself out of trouble may be true, but the story about him getting punched by Blake Griffin is a complete hoax! It seems that so many people are enraged at Bieber that they have passed this story along without verifying it at all – it's been viewed at this point well over 2.5 million times!