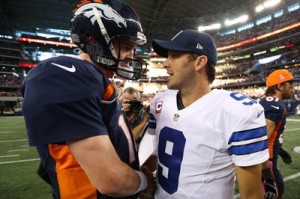 Some fake news stories are floating around the internet claiming that Tony Romo was traded to the Texans, this couldn't be any further from the truth!
Columnist Tim Cowlishaw answered questions in a chat Thursday. Here are some highlights.
Question: I like Tony Romo, but what if the Cowboys traded him for several draft choices/players to help starting to rebuild. Kyle Orton can get us 8 & 8 for a few years while the new players assimilate and we draft a quaterback. Minnesota, Arizona, Tampa Bay, Cleveland, Texans, Jacksonville, Tenn, & Oakland could use a quaterback. Or does Tony have a no trade agreement.
Tim Cowlishaw: You're living in the 1980s. Quarterbacks with contracts the size of Tony Romo's just can't be traded. No one would take on that money, Cowboys couldn't afford the cap hit, but think about it even if they could. If the Cowboys are suddenly offering to trade a 34-year-old QB coming off back surgery, what's the other team's reaction going to be?

Question: What is going on here? According to the police blotter there have been no Cowboys arrested in the past year. With the exception of Jeremiah Ratliff who was picked up for DUI in January which was before he Haynesworthed Jerry. What changed?
Tim Cowlishaw: You know I remember reading last off-season that the Houston Texans had gone five or six years without an arrest. Not sure if that streak remains intact but maybe Cowboys are trying to copy it. Good idea.
Question: What about the upcoming Seahawks v 49ers? Will the 49ers discover gold in Seattle or will the birds be flying high over Puget Sound?
Tim Cowlishaw: I might need to remind you they both have games to win before that matchup happens. I wouldn't completely discount Carolina. They beat the 49ers once and it was a road game.
Question: Now that Chuckie's brother Jay has been named Head Coach of the DC club do you think he will lead them to the promised land or will he ride off in about four years as another broken man?
Tim Cowlishaw: I actually think that's a sensible hire although there's a great chance he doesn't get near the promised land, given the messy status of that team. But he's got a big Arena League background and, who knows, that's the way the NFL is headed. And although Andy Dalton struggled this year, his first two years were better than expected and Gruden had to be a big part of that.

Question:  Will Romo's contract go down as the worst in Cowboys history?
Tim Cowlishaw: I don't think Romo's contract has a chance to do that. I think they could get out of it within a couple of years and it would not be crippling. But they certainly can't get out of it right now and I think that has to mean no QB in the first round despite this being a good year and a good time for it.
Question: Will there be a huge roster turnover on the Cowboys team following the past disappointing season or will GM for Life, Jerry, be too loyal and keep too many of these overpriced, aged out team veterans?
Tim Cowlishaw: I think Miles Austin's departure is inevitable, but the DeMarcus Ware issue is a more interesting one. I can't imagine the Cowboys cutting him but if they don't change his contract numbers dramatically, it's going to be difficult to be any kind of player at all in free-agency.
Question: Is Bruce Carter a lost cause or is he salvageable?
Tim Cowlishaw: Not a lost cause, just has longer way to go than anyone realize.