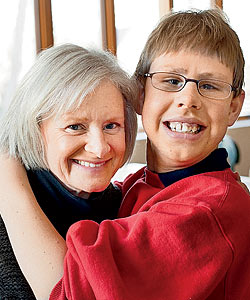 SAP, a world leader in enterprise software, has just launched a program to help thousands of autistic adults find meaningful and productive careers. Their new program is the brainchild of Thorkil Sonne whose 17-year-old is autistic. Thorkil realized that while those with autism might lack the social skills recruiters are looking for, they possess many attributes high on their radar as well: intelligence and memory, the ability to see patterns and attention to detail on repetitive tasks.
For most of his life, 28-year-old Patrick Viesti has worked to keep the signs of Asperger's syndrome at bay, but even after a successful college career, finding a job was not easy.
"To truly be honest, I would have to say it was quite difficult," Viesti said.
However, his luck changed thanks to the software company he now works for. SAP recruited him and a number of other new hires this year because of their autism.
"Someone is willing to give them a chance, to say to them, 'I want you for your skills, I want you for the experience that you bring to the table,'" Viesti said.
There was recently a study performed on autistic adults that found each case of autism costed an average of $2.4 million over a lifetime, including the expense of special education and lost productivity for their parents. Meanwhile, 85% of autistic adults are jobless or underemployed.
An important part of leveraging the unique skills of autistic workers is creating a comfort zone.
For example, employees with autism may suffer low self-esteem and feel stressed, but a solution to that is clearly stated goals. Also, failing to "get" the water cooler talk or sarcasm can be helped by direct communication.
SAP has just launched the program and has already hired 40 autistic workers at six locations globally. There's no significant data yet on how effective the program has been working, but the company says there is anecdotal evidence that the special skills these new hires bring are already merging well with their new teams.