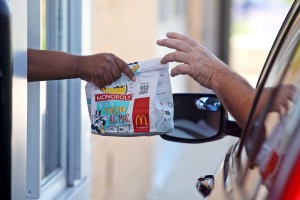 Have you ever been frustrated about waiting in a fast food line for multiple minutes? Now, you can get your food for free if that ever happens again…at least during McDonald's new test program at participating locations.
Participating McDonald restaurants in South Florida are trying out a limited-time 60-second guarantee on weekday lunch orders from noon to 1 p.m. now through August 29. Drive-thru customers are handed timers after they've paid for their orders, and then the countdown begins. If the food isn't ready in one minute or less, the customer will receive a lunch item for free on a future McDonald's visit, according to the Miami Herald.
McDonald's may loose a good amount of payments, but at the same time, they are hoping they will receive a huge increase of customers from other fast food competitors who are crunched for time. The lunch hours from 11am-1pm currently attract 34% of all customer visits.
The promise of speedy service (similar to what Domino's Pizza did when they old guaranteed pizza delivery in less than 30 minutes) could be just what some consumers need to get them back at the drive-thru. Over the past few years, drive-thrus have gotten slower, at least partly because menus have expanded and due to the fact that there are more drivers on the road and more consumers are pressed for time. Fast food industry-wide average times for drive-thru service have recently risen from 173 seconds to 181 seconds, QSR Magazine reported last fall.
Although this one-minute guarantee may seem extremely bold, McDonald's certainly not risking very much, as they are only offering this guarantee for one hour only during lunch, Monday to Friday only, in one market only for a few weeks. At worst, McDonald's will give out tons of coupons for free sandwiches (which almost guarantees those customers will be back). Customers might actually begin to enjoy the long lines, instead of complaining about how long it is taking to get their orders at the drive-thru, they may actually be hoping that the service is slow.
Do you think this program will last and expand? 
Comments
comments