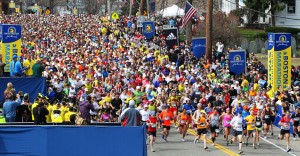 One year after the tragic Boston Marathon bombing, over 36,000 athletes will return to run in the 118th Boston Marathon. Included in this record number of runners are Ryan Hall of California, who placed third in 2009 and Desiree Linden, who missed winning by just two seconds in 2011, as well as other top-ranked Kenyan and Ethiopian runners.
All racers this year are facing new security restrictions at the event, a reaction to the attack that killed three people and injured 264 when two Chechen brothers dropped homemade explosives at the finish line of the marathon.
The record gathering of runners from around the world seen determined to not let last years bombings affect their resolve and competitiveness. Among the top-ranked runners, returning men's and women's champions Lelisa Desisa of Ethiopia and Rita Jeptoo are set to run this year's race.
Each faces a rival with a faster personal-best time: Dennis Kimetto of Kenya ran last year's Chicago Marathon in 2:03:45 and Ethiopia's Mare Dibaba turned in a 2:19:52 performance at the 2012 Dubai marathon.
There has never been an American athlete that has stood atop the podium on Boston's Boylston Street, since 1985 when Lisa Larsen-Weidenbach of Michigan won the women's race. The drought has been longer for U.S. men: Greg Meyer of Massachusetts won in 1983.
Boston Marathon organizers expanded the field by some 9,000 runners this year, to allow the roughly 5,000 athletes who had been left on the course last year when the twin pressure-cooker bombs went off near the finish line another chance at running in perhaps the most famous race of all.
Comments
comments