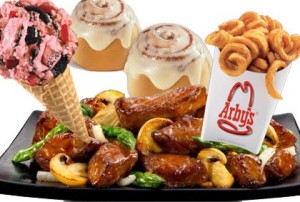 It's finally here – Tax Day!!
Millions of American taxpayers are currently letting out signs of relief (or filing for an extension) to mark the fact that their taxes are finally complete (or extended).
The even better news is that  for 2014, many businesses are offering a bunch of freebies, great deals, and BOGO offers to celebrate along with us!
Free massage
HydroMassage – Nothing like finishing your taxes, then getting  a free massage… Click the link to print out your coupon and find a location but the website says you should call the business in advance to make sure they'll honor the deal because it's up to each owner. (All Planet Fitness locations are open.)
Free Food
McDonald's BOGO deal: McD's has what could be the most popular tax day offer:  Buy one Big Mac, get a second for just 1 cent.  Valid at most McDonalds.
Hard Rock Cafe is offering a free meal… but… you'll have to "sing for your supper" if you want that deal. That's from 5-7 p.m. and you can choose from a list of 8 different songs. (you can start registering at 4:30 p.m.)
Arby's is offering free snack-sized curly fries Tuesday if you bring in a coupon from Facebook or Arby's website, that will become available late Monday April 14. CLICK HERE for coupon.
Schlotzsky's Deli is offering a free original sandwich if you purchase a drink and bag of chips (OK, not free, but almost).
Great American Cookies is offering one free chocolate chip cookie per visitor.  No tax form or coupon required.  The hardest part? Finding a Great American Cookie store.
Boston Market: BOGO deal: Get 2 chicken meals with sides for $10.40 on April 15th.  Get it?  $10.40?  Now that is knee slapping funny.  No coupon required.
Outback Steakhouse: Free Bloomin' Onion on Monday evening ( not Tuesday) to help keep you awake as you try to make the tax deadline.
Sonic: Half price drinks and Slushes all day Tuesday.  Participating restaurants only.
Other Deals
LendingTree is offering several free refinancing offers today
Groupon is offering a few special incentives for anyone who orders coupons on Tax Day
Office Depot is offering free shredding, for up to 5 lbs. of paper, if you bring a coupon from their website.
Hotels.com is offering up to 50% off for some exclusive tax day offers (click here to see their daily deals)
MyCorporation will help you start a business by filing your corporation or LLC for free. Click for details.
Please don't get too wrapped up in all these freebies that you forget to actually complete your taxes… everyone must file or request an extension by 11:59 p.m. Tuesday.
Comment below if you find any other freebies today – and share this with your friends!
Comments
comments