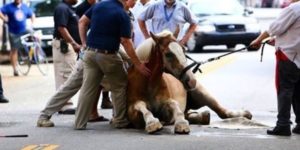 A new movement that's attempting to ban horse-drawn carriages in Charleston is now going viral.
One of the most iconic images of Charleston is a horse-drawn carriage walking down a historic southern street, yet many residents are now saying the 'outdated practice' needs to stop.
Local resident Alisha Atkinson launched an online petition to plead with the mayor and city counsel to ban the use of horses in the city. Her petition has already secured over 11,000 signatures and continues to grow by the hour.
The petition notes:
"Sure, it was charming in the 1900's, but now Charleston's streets are congested and the wagons are overcrowded.
Horse-drawn wagons are not weighed, and Carriage Companies are not using safety measures to protect the passengers. We are speaking out for the animals that are suffering on the hot asphalt streets. The horses and tourists are inhaling toxic traffic fumes." (read the entire petition here)
What do you think? 
Should horse-drawn carriages remain an iconic part of Charleston – or should the practice be banned? 
Comments
comments