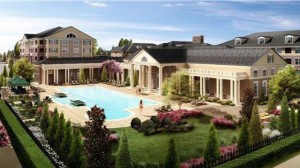 The Old Bellevue Mall center is about to receive one of the largest real estate make-overs the city of Nashville has ever seen. The entire complex will be leveled to make way for a massive new $200 million mixed use development.
It will be replaced with a mixed-use development consisting of 400,000 square feet of retail, dining and entertaining space, 330 multi-family residential units, a 120-room hotel, and over 360,000 square feet of office space.
Nashville city planners are now estimating that the development will bring at least 3,000 jobs and increase city and county sales tax revenues by about $3.8 million per year.
You can now browse all job openings around Nashville here.
Please share;
[facebook][tweet][digg][stumble][Google]
[one_third] [/one_third] [one_third] [/one_third] [one_third_last] [/one_third_last]
Comments
comments