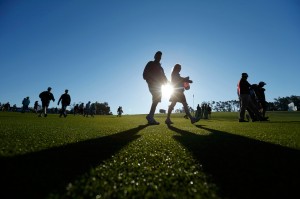 The sun is shining and play is under way at the Masters Tournament at Augusta National Golf Club, fans have traveled from all over the world to witness this legendary tournament. With all of the turmoil in the golfing world over this past year, who might have the best odds of taking home the green jacket this year?
Worst Chance to win – Phil Mickelson, who rarely connects his natural raw talent with the mentality needed to win a major event, which is why it took him so long to win one and makes him an overrated favorite heading into the 2014 Masters.
It also doesn't help Mickelson's case that he's coming into the Masters with an oblique injury suffered two weeks ago. It didn't flare up at the Shell Houston Open, so perhaps he is a fast-healing machine.
Best Chance to win – Matt Kuchar's second-place finish  at the Shell Houston Open last week gave him six top-10 finishes in nine PGA Tour events this season. He was also a master at saving his shots, finding greens in regulation 88.9 percent of the time.
Kuchar has been on the cusp of stardom and immortality for a long time, as Porter alludes to, with five top-10 finishes in major tournaments since 2010 that includes a third- and eighth-place finish at Augusta the last two years.
One of these years everything will fall into place for Kuchar, so why not this year?
Comments
comments