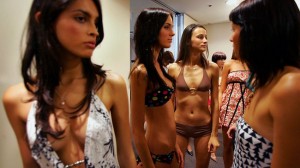 Psychologists and eating-disorder experts are worried about an increasingly biased fashion industry that is pumping out unnatural thinness. They say the fashion industry has gone too far in pushing an often dangerously unhealthy image that young girls often try to emulate. Many girls are now performing a two-step process of first, starving themselves to become extremely thin, then using "figure-enhancing" products such as Bubble Bodywear's silicone padded panties
 and curve-replacement bras.
"We know seeing super-thin models can play a role in causing anorexia," says Nada Stotland, vice president of the American Psychiatric Association. "Because many models and actresses are so thin, it makes anorexics think their emaciated bodies are normal", she says. "But these people look scary. They don't look normal."
The concern that model thinness has progressed from willowy to wasted has reached a threshold as evidenced by the recent actions of fashion show organizers.
The recent Madrid fashion show has banned overly thin models, saying it wanted to project beauty and health. Organizers said models had to be within a healthy weight range. They have set a standard with saying that "healthy" means a 5-foot-9 woman must weigh at least 125 pounds.
Officials in India, Britain and Milan also have expressed concerns, but some experts say consumers in the USA will have to demand models with fuller figures for it to happen here.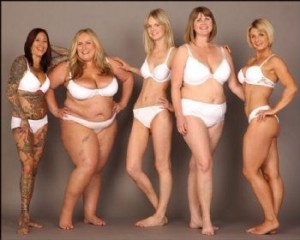 With the increasing appearance of more 'full-figured' and 'curvy' women making their mark in Hollywood and the reality show scene, it seems as though the American culture may be battling the fashion industry from a different angle. Women such as Kim Kardashian, Kate Upton, Jennifer Lopez, Nicki Minaj, Mariah Carey, and an ever increasing amount of 'full-figured' singers and actresses are declaring loud and clear, "we love our bodies and we look good".
The reality of america is that women have a huge variety of shapes and sizes – especially because we are made up of every ethnicity of the world. No matter what the fashion industry tries to force down our throats, the American culture is thankfully starting to say no. No we won't buy into your warped image of "normal". No we won't buy into your narrow view of "beautiful". No we won't accept your definition of "healthy"
Please share this article if you want to see this change continue! 
Comments
comments