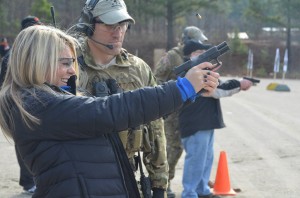 First time traveling with your guns? There are lots of things that you ought to know. Some states or and countries might have stricter gun laws than your place. To have a smooth travel, here are 4 tips for traveling safely with guns. 
4 Tips for Traveling Safely with Guns
Bringing your guns along for traveling comes with a lot of responsibilities. You will be in public spaces most of the time so it's important that you know what to do with your guns as you bring them along. 
Fortunately, we looked up government websites and other helpful materials to give you some tips on how you can safely travel to other places. Do note that there are places where it is illegal for you to travel with a gun. Therefore, you might want to reconsider bringing one. 
Check Your Guns
Before traveling, make sure that you check your goods if they are in good condition. Make sure that it is not loaded and ensure the safety features are working like trigger locks or safety systems. 
In 2019, 486 Americans died from unintentional firearm injuries. Hence, it's important that you do full maintenance on your gun a few days before traveling. You could end up in jail or a massive lawsuit for a preventable accidental discharge. 
You should know how to do a full check of your gun if you're planning to bring it for traveling. If you don't know how to do a proper check, then you should not bring your guns along. 
Store it Inside a Gun Case
Some states and countries require you to store your gun in safe storage. You should respect that some areas don't allow concealed carry or open carry. If going through the airport, you also need to use gun storage approved by TSA (Transportation Security Administration).  
If you're not going through the airport here are some gun cases you can use:
Padded Soft-Sided Cases
These gun cases are usually made of nylon, leather, neoprene, or polyester. They are light and easy to handle and cost less than your usual hard gun cases. However, it provides less protection, especially from falls. 
Lockable Hard-Sided Case
These gun cases are commonly made with aluminum or composite. They are also lightweight. However, they are sturdy, unlike soft-sided cases. They have great cushioning and the hard case keeps your gun secure if it ever falls. 
The downside of these gun cases is they can be costly and in most cases bulkier so it will take up space for storage. This might incur an extra fee or you have less storage for other things. 
Gun Stock
Gun stock is a durable stretch fabric that you wrap around your gun to protect it from moisture and dust. They are often used as a second casing for soft or hard gun casings. 
We don't recommend using this one as your main storage since it offers minimal protection from impacts. 
Comply with Airport Rules
Different airports may have different rules regarding guns. Hence, it is strongly recommended that you contact both airports for your departure and arrival and tell them you are bringing firearms with you. 
If you are allowed to bring, they usually instruct you what you should do to make your travel safe and smooth. You should not bring your guns with you to the airport without notifying appropriate airport authorities. 
You could end up getting arrested or detained and you will miss your flight. Worse you might get imprisoned or get shot if you panic or don't know the laws of the place. 
Look Up Laws Regarding Guns for Your Travel
It's common sense that you should know the gun laws of the place you are heading to. For countries you plan on visiting, you should contact its embassy in your country and get some information. 
If you live in the United States, different states have different gun laws. Hence, it's also important to know about them. You can visit their website to get more information about their gun laws. 
If you have a criminal record, some states or countries may even prohibit you from bringing a gun. Hence, it's important to get a general knowledge about the laws of your destination.  
Conclusion
When traveling with your guns, it is important to prioritize proper safety and knowledge. If you know what you should do in certain scenarios and how to comply with the law, you can safely travel with your guns. 
Comments
comments