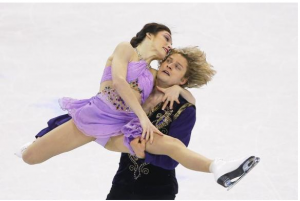 America won it's first ever gold medal in ice dancing – taking longer than any other sport for the American's to win the top prize in. The champions were Meryl Davis and Charlie White, a team that has been together for over 17 years (although not by any means without struggle).
Like everything else in the 2014 Winter Olympics, this gold medal also comes with a certain degree of scandal and controversy. Their scores seems almost 'too good to be true' and quickly triggered media-driven suspicion of score fixing.
The NY Daily News reported  that Davis and White were welcomed by reporters in the hallway following the announcement of their scores, then immediately told them their win may have been pre-planned.
"That's the first time we're hearing about that," Davis responded to the allegations. "We're confident that what we put on the ice speaks for itself."
The ice dancing event has a history of score fixing, the most recent case involving the 2002 Winter Olympics where a French judge reportedly tag-teamed with Russia to cheat Jamie Sale and David Pelletier of Canada out of a gold medal.
Officials of the Winter Olympics revised the scoring system following the 2002 scandal, but score fixing continues to be an issue to date.
Davis and White are expected to perform three more programs at the Sochi Games, one free dance routine in the new team event and two programs in the traditional category.
Canadian coach Marina Zueva, whose athletes Tessa Virtue and Scott Moir came in second after Davis and White, told reporters she thought "the marks were reasonable."
Meanwhile, Ashley Wagner, who represented the U.S. in the women's figure skating category, scored a less than impressive 63.10 to finish in fourth place. Yulia Lipnitskaya of Russia grabbed first in the event.
In spite of the allegations, at this point their medal is sticking. They now have one medal of each color after winning bronze in the new team event in Sochi, the first American figure skaters to own three.
Virtue and Moir had become the first North American ice dance gold medalists at their home Olympics in Vancouver. Their free dance to Russian classical music told the story of their own partnership, which also stretches back to 1997.
Comments
comments