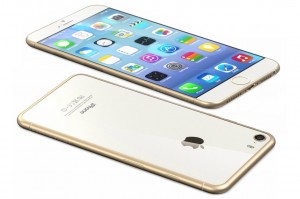 The news that most of the world has been eagerly waiting for – the new revolutionary iPhone 6 is here! It's now scheduled to hit shelves on September 9th (less than 1 year after the release of the iPhone 5s and iPhone 5c), over a month earlier than previously anticipated. The Economic Daily News reported that the new 5.6-inch model iPhone 6 will be released in September, though the outlet did not identify which markets would receive the phone first, but now it looks like because all of the recent competition, Apple has pushed up the timeline.
Apple has recently implied that a few rivals have been hurting sales, most likely referring to Nokia (soon to be Microsoft) and Samsung (Galaxy S smartphones). Apple knows that once they lose market share to a competitor with superior hardware, it is nearly impossible to win them back. This, along with new share-holder pressure has undoubtedly caused them to drastically push up the release date of their highly anticipated iPhone 6
They have recently put in rush orders for parts from two key suppliers residing in Taiwan who are Largan Precision, maker of smartphone lenses, and Visual Photonics Epitaxy Co, maker of internal chips or wafers. Both suppliers have been instructed to fire up their assembly lines next month in anticipation of the first wave of iPhone 6 units to be assembled. There will be two screen size options available for the upcoming smartphone: 4.7″ and 5.5″. The former is the one which will hit stores first, then the larger to become available sometime in late September. Apple has set high investor expectations by saying they expect to sell 80 million units upon initial release. If successful, it may reestablish the momentum which has been waning in recent years as Samsung & the other Android smartphones have collectively replaced the iPhone as the number one consumer choice.
Apple has historically released new phones in September, with the iPhone 5, iPhone 5s, and iPhone 5c all released in that month. It had been anticipated that the iPhone 6 follow the same launch schedule, but due to all the new pressure, that schedule is changing.
The iPhone 6 is likely to launch with iOS 8, Apple's latest mobile operating system. New apps set to make their debut include Healthbook, TextEdit and Preview.
UPDATE: The new iPhone 6 will include the following hardware upgrades:
[sociallocker] New Screen Sizes The new larger 4.7 inch display will keep video aspect ratio perfect, as well as adding an additional row of icons. The new 5.5 inch model will be able to add two additional rows. There has been recent Apple v. Samsung documentation that showed the company was pushing for a larger device to compete with the so called "phablet" range of devices, which are essentially cross-over devices that attempt to merge the advantages of a small smartphone and a tablet.
Higher Resolution In the recent annalysis by 9to5Mac's Mark Gurman — who has been a consistent and reliable source of pre-release Apple news — suggests a new sharper 1704×960 resolution display is in the works. With this astounding amount of resolution, developers will not have to make any adjustments to their apps to make them run on the larger screens. It would also give a total resolution density of between 356-416 pixels per inch, significantly higher than the 300 pixels per inch limitation of the human retina. The size is important because this reduces the fragmentation of display and resolution screen sizes that has previously angered Apple developers.
Sapphire-crystal screen The new iPhone6 will come standard with a new sapphire screen that will make the screen significantly stronger and scratch resistant. This scratch-proof crystal technology is already embedded in the Touch ID fingerprint sensor in the iPhone 5s, designed as such to prevent it from deteriorating. Canonical, the maker of the Ubuntu operating system, which recently dipped into smartphone development, said Apple has bought up three years' worth of sapphire screens for the iPhone 6.
Powerful 802.11ac networking There have been many Wall Street and industry analysts, including Cowen analyst Timothy Arcuri that have pointed to the iPhone supporting the latest 802.11ac wireless networking standard, which reaches speeds of up to 1 Gigabit per second. It falls in line with Apple's efforts to bring the next-generation networking technology to its other devices, including AirPort routers (now available on Amazon.com) and Apple's new storage units.  
[/sociallocker] [facebook][tweet][digg][stumble][Google]
Comments
comments