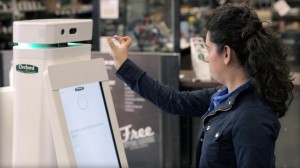 Lowe's Home Improvement is now start to replace people with robots.
They are now 'customer service robots' to help shoppers find a match for something as simple as a nail, as well as check prices, give directions, and general advice.
The first test site is an Orchard Supply Hardware store owned by Lowe's Companies Inc. in San Jose, California.
The robots are currently being called 'OSHbots' – they are basically wheeled white columns with two large black screens on either side. They're equipped with 3D cameras so they can scan and identify almost any item. Customers can also research items they want to buy on their screen, then the robot can lead them to the aisle where the item is located.
"They're based on making a science fiction story a reality," commented Lowe's Innovation Lab director Kyle Nel.
The robots even have a comprehensive and up-to-the-minute database of inventory stock, so they can let customers know if something is in the store, or if it will have to be reordered.
"People can come in with a random screw and say Mr. Robot, I need more of these, and if we do have it in the store, they can find it," Nel said. The robots can even speak in a variety of languages.
Who do you think will be replaced by robots next?
[facebook][tweet][digg][stumble][Google]
[one_third] [/one_third] [one_third] [/one_third] [one_third_last] [/one_third_last]
Comments
comments