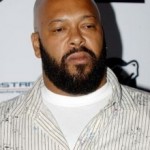 Forrmer rap star Marion "Suge" Knight and comedian Micah "Katt" Williams were just arrested on suspicion of camera theft in Beverly Hills.
Suge was charged over 10 years ago with assault with a deadly weapon in the now infamous Tupac Shakur murder. Soon after Tupac's death, speculation arose that Suge was involved. Snoop Dogg even recently stated that Suge was responsible for Tupac's murder.
This latest incident of the camera theft is really just a cover up for another major crime that Suge is being accused with;
[sociallocker]
A theory accusing Suge Knight in the deaths of both Biggie and Tupac was that of ex-detective Russell Poole, whose claim inspired writer Randall Sullivan and filmmaker Nick Broomfield. The conjecture was that Knight had Tupac killed before he could part ways with Knight's Death Row label and then conspired to kill Biggie to divert attention from himself in Tupac's murder. The convoluted Biggie murder theory implicated Suge Knight, a rogue cop, a mortgage broker named Amir Muhammad (who was never a police suspect) along with the chief of police and the LAPD in a conspiracy to murder and cover up the murder of Biggie.
The Biggie theory formed the basis of a 500 million dollar lawsuit by the Wallace family against Los Angeles. A key source for Poole's theory was Kevin Hackie. Hackie had implicated Suge Knight and David Mack. Hackie, a former Death Row associate, said that he had knowledge of involvement between Suge Knight and David Mack and other LAPD officers. His information was used by the Wallace family in their suit against the city of LA for Biggie's death. But Hackie later told Chuck Philips that the Wallace attorneys had altered his declarations.
Suge Knight was just arrested again on Wednesday in Las Vegas; Williams at an Inglewood court house where he was due for an arraignment in a separate assault case.
Prosecutors allege the men stole a camera from an "independent celebrity photographer" outside a Beverly Hills studio last month. The case remains under investigation by Beverly Hills police.
Because of an earlier conviction for assault with a deadly weapon, prosecutors said Knight faces up to 30 years to life in state prison in the robbery case. Williams faces up to seven years' imprisonment.
Prosecutors said they plan to ask that bail be set at $1 million for Knight and $75,000 for Williams, according to the district attorney's office.
[/sociallocker]
[facebook][tweet][digg][stumble][Google]
[one_third] [/one_third] [one_third] [/one_third] [one_third_last] [/one_third_last]
Comments
comments