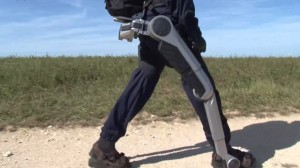 "Human Exoskeletons", or what some are affectionately calling, 'Wearable Robots' are now a major leap closer to completely replacing wheelchairs.
The new ReWalk exoskeleton has just been approved by the Food and Drug Administration for personal home use. It was previously only offered to people only in rehabilitation centers along with the Ekso, its competitor. The device is essentially a wearable robot designed to help paraplegics walk.
"This revolutionary product will have an immediate, life-changing impact on individuals with spinal cord injuries, this is truly the beginning of 'ReWalking' as a daily reality in the U.S.," Larry Jasinski, CEO of ReWalk Robotics remarked.
The revolutionary devices use a computer-based control system, motorized sensors and brace support to mimic walking by responding to side-to-side shifts in the user's weight. The entire system currently costs almost $70,000 and the company is not yet sure how much insurance companies might be willing to cover.
Most people who have been using the devices have seen considerable health benefits, such as better circulation, increased oxygen intake, pain relief and better bowel function. Even the act of standing upright and looking people in the eye also has psychological benefits.
The ReWalk is currently the only device approved for home use by the FDA, the Ekso is still only available in rehabilitation centers, and another device, called the Indego, is also awaiting FDA approval for rehab and home use.
Comments
comments