It's been over 6 months since local heros David and Jason Benham had their reality show on HGTV canceled due to their religions beliefs, but in spite of the trials, they are more popular than ever. They have now been featured on virtually every major media outlet in America, and have just released a book which is quickly becoming a best seller;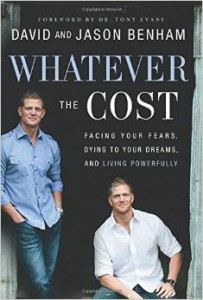 After their show was canceled, the brothers began to write down their story in order to inspire others and give hope to our nation.
Their new book teaches powerful lessons and success tips. They talk about real-life strategies from their time with two separate major league baseball teams, to the growth of their multi-million dollar business empire and securing an HGTV reality show.
It's a journey where the brothers learned incredible lessons on how to stay true to who they are, even after walking away from professional baseball and having their TV series was stripped away from them.
Their experiences showed them that the key to powerful living is found when you die to your dreams and face your fears, and choose to live powerfully through it all.
Find out more or purchase your copy now on Amazon.com by clicking here.
[facebook][tweet][digg][stumble][Google]
Comments
comments