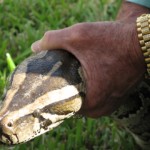 Police in Florida have just captured a now infamous monster snake that reportedly was feasting on several cats around the neighborhood.
Port St. Lucie officers captured the 12-foot, 120-pound Burmese python this past weekend after responding to reports of an extremely large snake on a block with homes. Police commented that the python killed one neighborhood cat and may be responsible for the recent disappearance of many others in the area.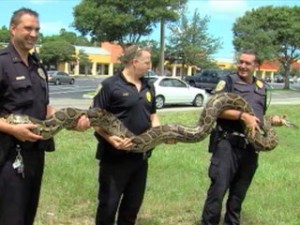 WPEC-TV in West Palm Beach remarked that Sgt. John Holman found a dead cat, then discovered the monster snake in waist-high brush. Other officers responded to help him remove the snake.
Every Python in Florida is an invasive species- – researchers think they are eating their way through populations of native mammals in the Everglades.
The state of Florida currently prohibits owning or selling pythons, and federal law bans importation and interstate sale of the species.
Share the heroism with your friends! 
[facebook][tweet][digg][stumble][Google]
Comments
comments