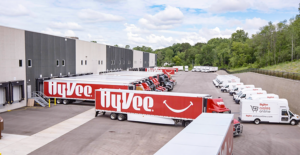 Regional grocery powerhouse Hy-Vee has just announced plans to open a massive new distribution center in Nashville, which will service at least 20 new locations across Tennessee, Indiana, Alabama, and Kentucky (including at least 2 new stores right here in Music City).
Hy-Vee CEO Randy Edeker made the announcement on the company's internal communication platform Zipline, saying that the company intends on opening the new center by the end of 2023.
"This is the growth for the next 25 years for Hy-Vee in this territory," said Edeker. "If we can build out 50 stores in this market, we estimate that is $6 billion in sales. But overnight we're going to go from a regional company to a national company. As we build our third DC in the Nashville market you will see us turn more into a national presence."
The new distribution facility in Nashville will be the company's first outside of Iowa and will officially make the store a national chain.
To our friends in Kentucky and Tennessee –

Help is on the way.

❤️
Hy-Vee pic.twitter.com/wuLNny5Sp3

— Hy-Vee (@HyVee) December 14, 2021
Comments
comments