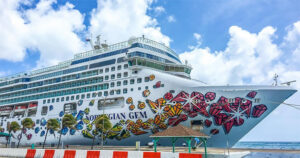 Cruise ships have finally returned to Charleston!
After over 2 years of lockdowns, the Port of Charleston finally welcomes it's first major cruise ship today to its Union Pier Terminal.
Today, the Norwegian Gem, a 2,394-passenger cruise liner docked at one of the world's busiest ports in a very promising sign for Charleston's tourism industry.
In addition to Norwegian Cruise Lines, Carnival is about to also start departing out of the Port of Charleston in less than 1 month.
"Our restart plan continues to excel across all metrics, and we are looking forward to completing the restart of the fleet in the new year," said Carnival President Christine Duffy in a company press release.  "We appreciate the support and patience of our guests, travel agents and port and destination partners who have been key to this successful restart."
Duffy added that Carnival continues to carefully monitor the status of public health and adjust its operating protocols accordingly.
Comments
comments