With an epic applause from the audience and I'm sure everyone watching at home, Jimmy Fallon came to the stage for his first night at his new home on the Tonight Show.
Jimmy spent the first few minutes introducing himself to the audience — childhood memories, details about his family, and his career progression….
When the formalities were out of the way, he re-entered through the gigantic blue curtains, with The Roots playing him in — and started his show proper: the usual monologue and his usual over-eager and gracious self.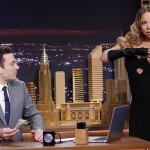 Then came an epic series of guest appearances after he uttered the words….
"To my buddy who said that I'd never be the host of 'The Tonight Show,' and you know who you are," Fallon said, "you owe me a hundred bucks, buddy."
And out came Robert De Niro, Tina Fey, Joe Namath, Rudy Giuliani, Mariah Carey, Tracy Morgan, Joan Rivers, Kim Kardashian, Seth Rogen, Mike Tyson, Lindsay Lohan, Lady Gaga, and Stephen Colbert to make good on their $100 bet…
Comments
comments