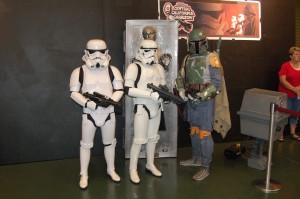 The legendary Star Wars creator, George Lucas has just announced the final winner of the host city to his overly-anticipated museum of art and movie memorabilia (most of which will undoubtedly be Star Wars related), in a huge victory for the nation's third-largest city, Chicago won as the final selection.
The two other cities of San Francisco and Los Angeles were aggressive in attempting woo the legendary Lucas for the the museum, but Lucas said he feels Chicago will be the best fit to place the Lucas Museum of Narrative Art in 2018.
"I am humbled to be joining such an extraordinary museum community and to be creating the museum in a city that has a long tradition of embracing the arts," Lucas remarked.
Many have taken the selection of Chicago as a major surprise, given Lucas' tight bonds with California: He's a native of the state, Lucasfilm's visual effects division is located in San Francisco and the headquarters for Lucasfilm and Skywalker Sound is across just the Golden Gate Bridge.
Ultimately, Chicago was always given a great chance at the Lucas museum, in large part because Lucas' wife, Mellody Hobson, a prominent businesswoman, is from Chicago and the city closed down Promontory Point along the Lake Michigan shore so the couple could host a star-studded party to celebrate after the couple's famed California wedding.
For the Lucas museum, Chicago offered up a slice of real estate along the lakefront that's near several other similar other attractions, including the Shedd Aquarium and the Field Museum of Natural History.
The Mayor of San Francisco, Edwin M. Lee remarked in a statement that he would like to continue working with Lucas on "other endeavors that will help educate the young people of the Bay Area, his home."
Comments
comments