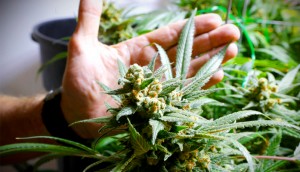 Louisiana lawmakers have just approved medical marijuana legislation last week by a vote of 70-29. The bill will give full access to patients who need the drug.
Once it's signed into law, Louisiana will become the 24th state, plus Washington, D.C., where patients have legal access to medical marijuana. It will also become the first state in the Southeast to fully legalize medical marijuana.
The state technically legalized marijuana for medical purposes way back in 1978, but they have yet to allow for any mechanism to legally dispense the drug. The Department of Health and Hospitals was ordered to write rules for dispensing it nearly a quarter century ago, but the rules were never clear enough to allow for dispensaries.
Currently Louisiana doctors can legally prescribe it, and patients can legally use it, but patients have now way to legally access it in the state. In short, the system lacks a middleman.
This new legislation (SB 143) will give authority to three state boards to set rules for legal growing and distribution of the drug.
Do you think this law should be passed?
[facebook][tweet][digg][stumble][Google]
[one_third] [/one_third] [one_third] [/one_third] [one_third_last] [/one_third_last]
Comments
comments