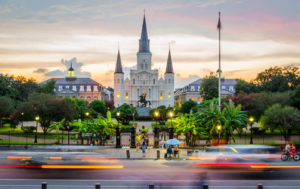 New Orleans has just been ranked as one of the friendliest cities in the entire world.
It came in as the #19 out of the friendliest cities in the world (and 9th friendliest in the US), based on a reader survey (check out the full list here).
The site noted that, "Over the last four years, we've asked our readers to rate a city's "friendliness" in the Readers' Choice Awards survey, especially with respect to where you felt welcome. Did an outgoing local show you the way? Was the city easy to navigate? Some 128,000 people took the survey in 2015″ and New Orleans landed in the top ten in the world.
One reader commented, "this is truly a place meant for enjoying life. Extraordinary sensory experiences at every turn, and it seems as if everyone wants you to have a good time."
Charleston, South Carolina, took the No. 1 spot on the list with Burlington, Vermont, coming in at No. 30.
Several other cities around the world also made the list, such as Galway, Ireland, and Edinburgh, Scotland.
How friendly do you think New Orleans is?
Comments
comments