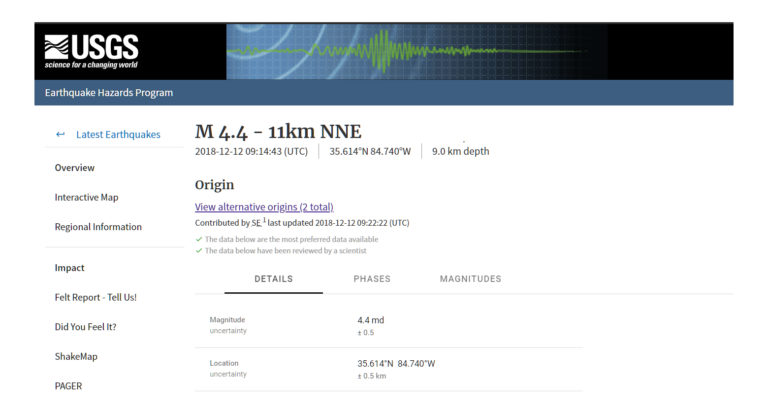 Last night a massive 4.4 magnitude earthquake rocked our region, knocking books off of shelves and waking deep sleepers from their beds.
According to the U.S. Geological Survey, the earthquake had an epicenter of 9 Km under Decatur, TN. Even though this is about 100 miles east of Nashville, it still shocked people all around the Nashville region;
I swear I just felt earthquake tenor…. it woke me up!

— Jamie❤️WeinerDogs (@scoobydooclt) December 12, 2018
Because I stay up ridiculously late, I actually felt this earthquake at around 4:15AM.

I've never been so confused. https://t.co/JjH92nzp53

— 🧟‍♂️Jeffrey Kopp🧟‍♀️ (@jeffreykopp97) December 12, 2018
The earthquake was so strong that it was even felt as far away as Tampa, FL, Kansas City, and New York City.
Here's the USGA's 'did you feel it' map from last night's quake;
It was the second strongest ever recorded in Eastern Tennessee;
This morning's M4.4 earthquake near Decatur is the second strongest on record in East TN, according to the USGS. The strongest was a M4.7 near Maryville in 1973. #earthquake

— NWS Morristown (@NWSMorristown) December 12, 2018
Earthquakes have been increasing in frequency around our region over the past few years, about a year ago, we saw a 2.9 magnitude quake hit Asheville and a 2.1 magnitude quake that struck Bryson City.
The Nashville area has been known to experience the occasional damage-causing earthquakes.
According to USGS.gov, "The largest earthquake in the area (magnitude 5.1) occurred in 1916. Moderately damaging earthquakes strike Tennesee every few decades, and smaller earthquakes are felt about once each year or two."
Did you feel last night's quake?