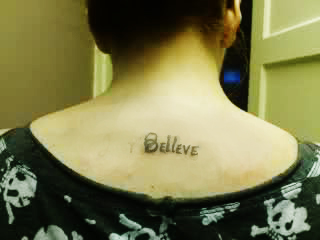 The photo of the 13-year-old girl who just illegally had the word "belleve" tattooed on her neck was just posted on Twitter (pictured left).
She's obviously now  rethinking her urgent need for permanent ink, while her tattoo artist is getting ready to serve a suspended eight-month period in jail.
The teenager, who remains anonymous because of her age, visited Jackson Rowsell's (19 yr old) home in Landport, England after seeing a Facebook post in which he offered tattoos for £20 or about $32.
Rowsell reportedly asked the girl's age, but continued with the appointment.
He sprayed the girl's neck with what was reportedly Jack Daniel's whiskey before starting in with his needle. She asked for the word "believe" on her neck, but instead, received "belleve."
The teen had repeatedly asked her parents for permission to get a tattoo.
When they wouldn't agree, she simply pursued the ink in secret. Since the incident, she's had to undergo monthly HIV and hepatitis testing as a result of the potentially dirty needle.
The girl reportedly told the Portsmouth Crown Court;
[sociallocker]
I'm very upset about what has happened, partly because the tattoo is awful but mainly because of the worry it has caused all my family.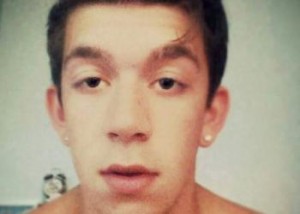 The girl's mother was quoted by the Portsmouth News as saying:
Our entire family has been devastated by this.

My initial reaction was one of utter disbelief. Her sister took one look at it and stormed off. Her dad just wanted to kill him.

It's not spelled right, it's smudged, it's absolutely awful.
She added: "Children make mistakes. Adults are supposed to take responsibility. He took our power away completely and now our daughter is scarred for life for £20."
"What he has done is absolutely disgusting. It caused mayhem in our home."
A Portsmouth City Council member said the victim "made a spur of the moment decision to go to Rowsell's home in a taxi, after contacting him through Facebook. She said he tattooed her despite being told her age and that she did not have her parents' permission. Before tattooing her he sprayed her skin with what appeared to be Jack Daniels whiskey.
[/sociallocker]
[facebook][tweet][digg][stumble][Google]
[one_third] [/one_third] [one_third] [/one_third] [one_third_last] [/one_third_last]
Comments
comments