After Taylor Swift's record breaking year, she wanted to show her appreciation to some of her biggest fans, and their responses will absolutely melt your heart.
"That is a lot of the stuff I went shopping and got yesterday for presents," a sleepy eyed Swift said in a video "Taylor Swift's Gift Giving", which was posted on New Year's Eve and has now been viewed over 11 million times;
The 6-minute video captured some of her favorite holiday moments from her making the presents, and from the responses her fans sent back to her after receiving the personalized gifts.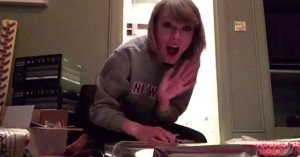 "We're going to need more bubble wrap," she commented as she was preparing the over-stuffed packages for shipping.
The true magic started when the video captures the fans receiving their favorite singer's presents.
Screams, gasps, and tears followed as they read Swift's personalized and handwritten cards along with extremely personalized gifts.
Please share;
[facebook][tweet][digg][stumble][Google]
[one_third] [/one_third] [one_third] [/one_third] [one_third_last] [/one_third_last]
Comments
comments