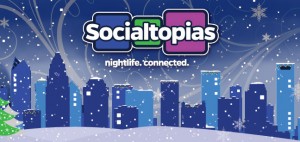 A new technology start-up in Charlotte's southend has just raised $4.2 Million in venture capitol and officially launched last week.
Socialtopias is a new social media platform that's designed to help users find friends interested in going out on the town, connecting them to restaurants, bars, and entertainment venues. The app's goal is to match preferences and link them with like-minded people in closed networks.
The apps founder, Joshua Linebergerr and operations director Martin Miller have been developing the concept over the past four years in their small Charlotte office. They raised the $4.2 million last year, mostly from one wealthy investor who doesn't want to be named.
The group chose Charlotte for its launch due to the city's diverse demographics, including a large age range and both urban and suburban nightlife. As it adds users, the app will grow into new markets.
The startup has recently partnered with the Charlotte Hornets as the "official nightlife adviser" for the team. It also is paired with digital-dispatch ride-sharing service Uber, enabling Socialtopias users to order rides while out on the town.
"Banking was our old identity, I think we're coming into a new, young energetic identity." Linebergerr commented about the Queen City.
The first gold rush in America was in Charlotte, followed by San Fransisco. The biggest bank in America was started in San Fransisco (Bank of America), then purchased by NationsBank and moved to Charlotte. San Fransisco's Silicon Valley is now America's leader in technology start-ups.
Will Charlotte become the Silicon Valley of the east? 
[facebook][tweet][digg][stumble][Google]
Comments
comments