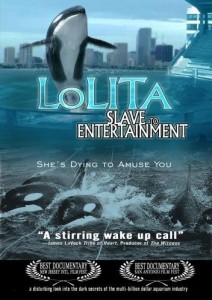 A recent photo was taken of what many are calling the loneliest Orca in the world. She is currently living in Miami, Florida and certainly has a remarkable will to survive. She's currently 37 years old, her name is Lolita, and she lives in a puddle.
On August 8th, 1970, Lolita and her family were swimming peacefully off the coast of Washington State, in route to a ritual gathering of the orca nations. Every year the orca pods of the northwest make the long pilgrimage to Possession Sound for the celebration.
But for Lolita the day took a tragic turn. She and 10 other family members would never make it to this or any other family reunion again.
This controversial independent documentary takes a disturbing look into the dark secrets of the multi-billion dollar aquarium industry and questions human ethics in relationship to animals in entertainment. It is the tragic and compelling life story of Lolita, a Killer Whale on display in Miami Florida, documenting her 37 year existence. But there is another story here as well.
Here is the trailer for the Documentary, Lolita: Slave to Entertainment;
Comments
comments