For a country that's never had a king or queen, America has built some of the most intriguing "castles" in the world using mostly entrepreneurial wealth.
Here is the list of the most 'majestic' castles ever built on American soil;
#1 The Biltmore (Ashville, North Carolina)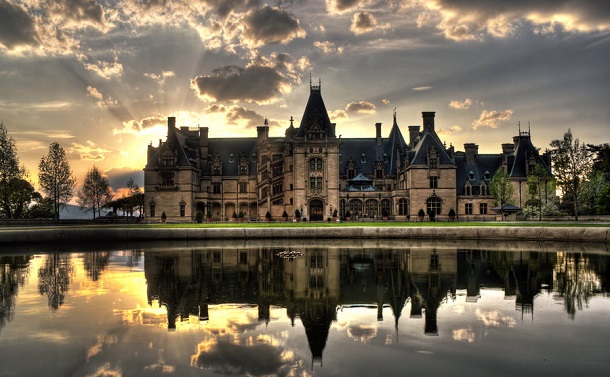 The Biltmore House is the main building on the vast Biltmore estate in Ashville, NC. It is a Châteauesque-styled castle built by George Vanderbilt II between 1889 and 1895 and is currently the largest privately owned house in the United States, at 178,926 square feet. It features 250 rooms, 65 fireplaces, a 10,000 volume Library, a 70-foot tall Banquet Hall, an indoor pool, and a bowling alley. Still owned by one of Vanderbilt's descendants, it stands today as one of the most prominent remaining examples of the Gilded Age. In 2007, it was ranked eighth in America's Favorite Architecture by the American Institute of Architects.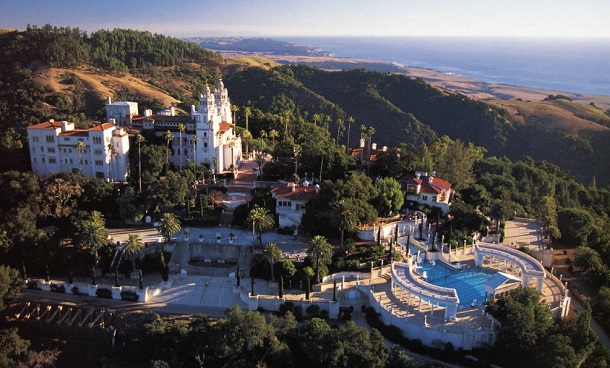 Hearst Castle was built by American newspaper publisher William Randolf Hearst. He originally envisioned the La Cuesta Encantada ("Enchanted Hill") to sit on top of his family's 250,000 acre estate when he inherited the land in 1919. In 1947, Hearst and architect Julia Morgan finished construction on the Hearst Castle, which included a total of 165 rooms and 127 acres of gardens, terraces, pools and walkways.
#3 Boldt Castle (1,000 Islands, New York)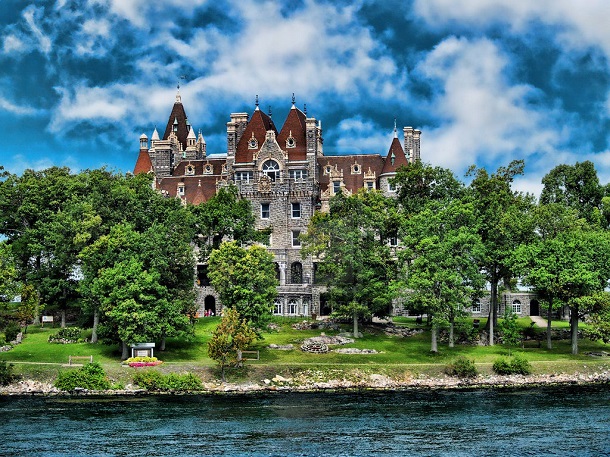 In 1900, George C. Boldt, millionaire proprietor of the world famous Waldorf Astoria Hotel in New York City, began constructing a full size rhineland castle in Alexandria Bay, on picturesque Heart Island. The grandiose structure was to be a display of his love for his wife, Louise.
Over 300 workers including stonemasons, carpenters, and artists fashioned the six story, 120 room castle, complete with tunnels, a powerhouse, Italian gardens, a drawbridge, alster tower (children's playhouse), and a dove cote.
In January 1904, tragedy struck. Boldt telegraphed the island and commanded the workers to immediately "stop all construction." Louise had died suddenly. A broken hearted Boldt could not imagine his dream castle without his beloved. Boldt never returned to the island, leaving behind the structure as a monument of his love. It has since been mostly restored and is now open to visitors.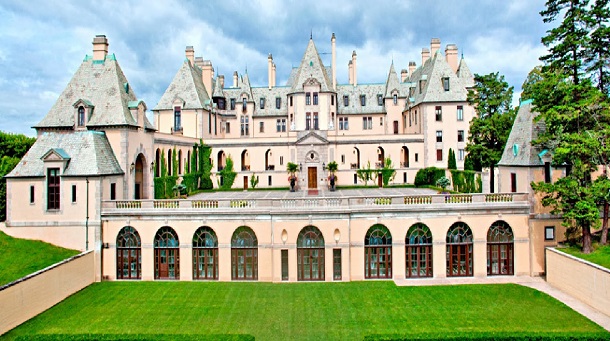 Otto Hermann Kahn completed construction on the OHEKA Castle in 1919, in the middle of a 443 acre plot on the highest point on Long Island in Cold Spring Harbor. The total cost was estimated to be $11 million dollars ($110 million dollars in today's currency). The French-style chateau was, and still is today, the second-largest private residence ever built in America. During the Gilded Age of the 1920's, Kahn used the 109,000 square foot, 127 room estate as a summer home where he hosted lavish parties and regularly entertained royalty, heads of state, and Hollywood stars.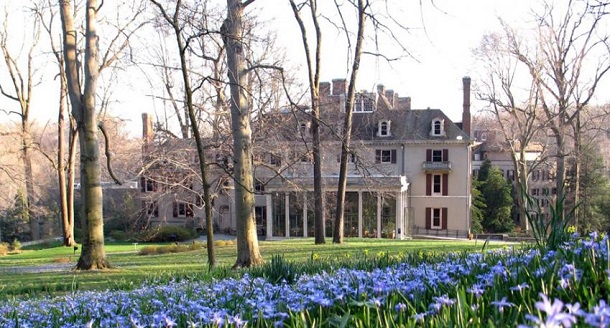 The Winterthur is a 96,582 square foot home (3rd largest in America), located in Winterthur, Delaware. It was built by Henry Francis du Pont in the late 1800's in Manor style. It sits on a 1,000-acre preserve of rolling meadows and woodlands.
#6 Singer Castle (1,000 Islands, New York)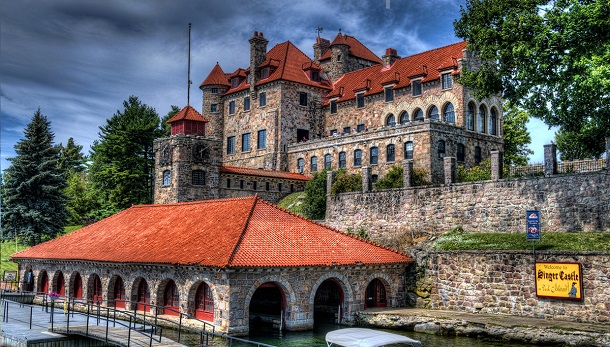 The Singer Castle on Dark Island is the only castle that was resided in during the heyday of the 'great builders' and industrials in New York. It was built by Frederick Gilbert Bourne, a self-made millionaire, who wanted to surprise his wife Emma with an island 'hunting' retreat. He purchased Dark Island, then hired a small army to design and build the granite castle, three elaborate boathouses, several turrets, a 2-story ice house, dungeons, and several underground passageways through the island.
#7 The Breakers (Newport Beach, Rhode Island)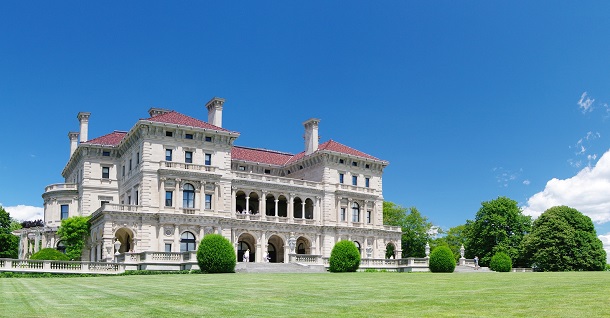 The Breakers is a 65,000 square foot castle with 70 rooms located in Newport Beach, Rhode Island. It was completed in 1895 by Cornelius Vanderbilt II, older brother of George Vanderbilt II who built the Biltmore Estate.
The massive home has a gross area of 125,339 square feet on five floors. The 13-acre estate sits on the edge of massive cliffs overlooking the Atlantic Ocean.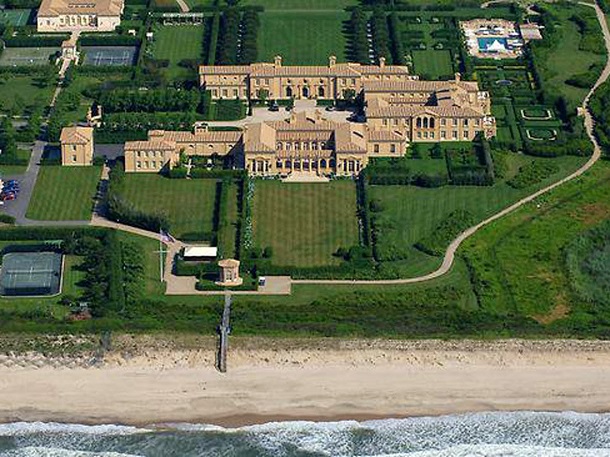 Junkbond tycoon Ira Rennert recently completed the most expensive and largest occupied residential home in America.
The house faces the Atlantic Ocean and its grounds measure 63 acres. The buildings contain over 110,000 square feet, including the 66,000-square-foot main house with 29 bedrooms, and 39 bathrooms. The main house also has a 91-foot long formal dining room, basketball court, bowling alley, two tennis courts, two squash courts, and a $150,000 hot tub. Its property taxes in 2007 were $397,559.00. Based on these taxes, the home is currently valued at $198 million.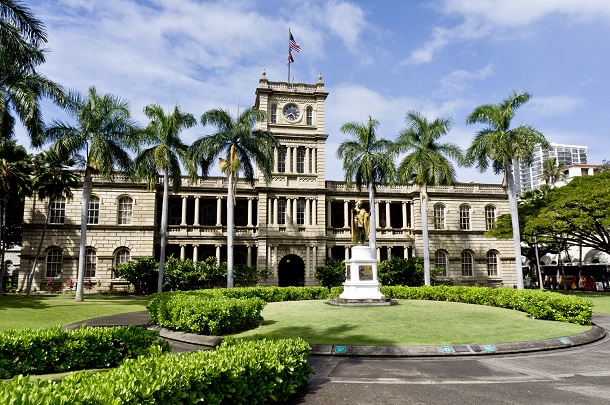 'Iolani Palace was the only official residence of a reigning monarch on U.S. soil. It is now Hawaii's grandest symbol. Completed in 1882, it was occupied by Hawaii's last two monarchs before American annexation.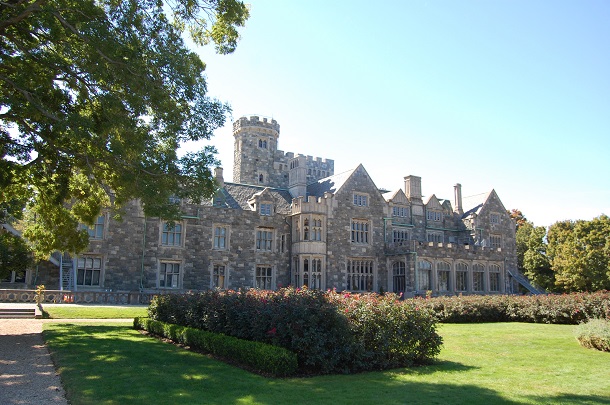 Hempstead House has three floors containing forty rooms, accented by an 80-foot tower. When construction was finished in 1912, the 300-acre estate needed 17 house servants and 200 farmers and groundskeepers to maintain its upkeep. In its prime, the Hempstead House contained some of the rarest plants, animals, and works of art, it was widely regarded as the most lavish estate in America.
[facebook][tweet][digg][stumble][Google]
[one_third] [/one_third] [one_third] [/one_third] [one_third_last] [/one_third_last]
Comments
comments