One of the most popular cities in America is now exploding with growth and world recognition as one of America's top travel destinations. The majority of people moving to the area are now renting homes, echoing the national trend or decreasing home ownership.
The region around Savannah is divided by many waterways, creating unique and sometimes isolated communities. 5 of these communities have recently been highlighted as the best in the city. Homes in these communities are as varied as Savannah itself, from antebellum beauties to the most modern construction.
Without further delay, here are the top 5 neighborhoods in the Savannah area;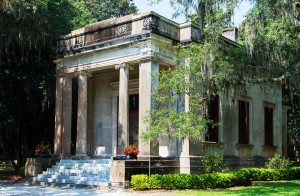 Kicking off the list is by far one of the favorite islands for Savannah locals.
The Isle of Hope is just slightly southeast from the center of Savannah. The riverfront community has been a magnet for young couples who crave a rural waterfront childhood for their kids. The area is not really an island but sits on a peninsula jutting into the Skidaway River, so there's water on three sides. With no commercial development except the marina, a trip to the nearest supermarket or drugstore is a minimum of three miles. If you can't afford to buy, renting here still gains access into this unpretentious and close-knit neighborhood. – anywhere from $550,000 to over $7 million!
You can find pretty much any amenity you want on the Isle of Hope, including parks, playgrounds, and plenty of shopping.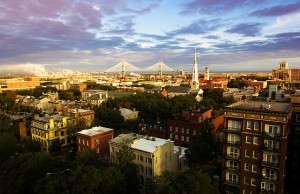 The heart of Savannah has become one of the most legendary downtowns in America. It consists of a 2.5-square-mile district of old homes, parks, and squares.
The housing styles throughout downtown can vary as much as the people living in them, ranging from Federal to Italianate, Traditional to Queen Anne. Prices run high here, because this is the Savannah everyone dreams about. The Mercer House, made famous in Midnight in the Garden of Good and Evil, has listed at $9 million, but most homes in this stately district run from $300,000 to $900,000, depending on whether they have been restored to their original grandeur.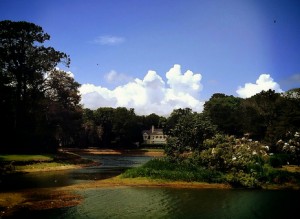 Skidaway is a high-end area about 12 miles south of downtown Savannah.
It's most prominent community is called The Landing. A gated community on the 6,500-acre barrier island. Deep water docks, six golf courses and four clubhouses are its perks; a restrictive environment when it comes to house color and yard art may be considered a downside. Here kids drive golf carts to the club pool or to visit friends.
The island also features a few smaller, but equally impressive communities with homes at slightly more affordable levels.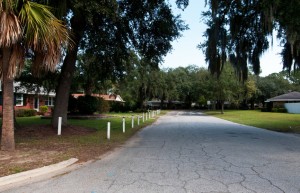 Just south of midtown Savannah is small but vibrant community called Habersham Woods.
This enclave of mid-20th-century ranch houses features long, quiet streets in the heart of the busy city. Less than five minutes from two major hospitals, a YMCA, several private schools and Memorial Stadium, this family-oriented neighborhood of old-growth trees and homes built from the 1950s to the 1970s defines central location in Savannah.
Homes in Habersham Woods have an average price of about $230,000.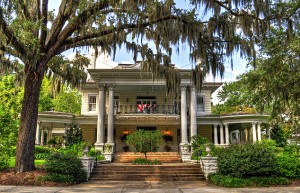 Ardsley Park is considered by many historians to be Savannah's first suburb. It's a historic district filled with plush lawns and four- and five-bedroom mansions and Craftsman bungalows built in the 1920s. The neighborhood's northern boundary is Victory Drive, which runs east from Bull Street to Waters Avenue.
If it's the cinematic version of Savannah you're looking for, Ardsley Park is the place to find it: ancient live oaks drip with Spanish moss over streets lined with stately mansions. Ardsley Park is far enough away from the touristy bustle of downtown to be peaceful and residential. Children can walk or ride bikes to school, and residents have easy access to downtown and the Southside shopping malls.
If you'd like to find out about other neighborhoods around Savannah, or you're thinking about buying or selling a home in the city, check out Realtor.com.
Please share if you love Savannah; 
Comments
comments