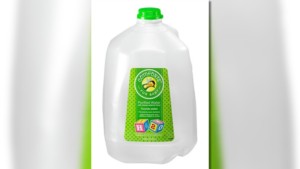 The FDA has just issued a national recall of all bottles of "Comforts For Baby Purified Water with Fluoride Added" with sell-by dates from 4/26/2018 to 10/10/2018 after a dangerous type of mold was detected on the inside of the containers.
Testing identified the mold as Talaromyces penicillium. The fluoride-added water is sold in clear containers, but the mold may not be visible with the naked eye.
"Allergic responses include hay fever-type symptoms, such as sneezing, runny nose, red eyes, and skin rash. Allergic reactions are common and can happen immediately after touching or inhaling mold spores, or later," the FDA warns. Infants with any type of immune deficiencies are especially at risk.
Comforts For Baby Purified Water is sold at all Kroger stores including Food 4 Less, Jay C, Jay C Food Plus, Kroger, Kroger Marketplace, Owen's, Payless Super Market, and Ruler stores throughout Savannah;
If you've purchased this water, Kroger is offering a full refund and is urging consumers to bring it back into the store immediately. If you have additional questions, you can call Kroger at 888-723-33663 (SAFEFOOD), Monday through Friday, between 10 a.m. and 4 p.m. Eastern time.
Comments
comments