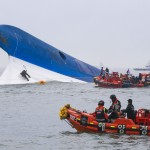 The most shocking discovery in the history of South Korea may have just taken place. Park Si-chan had trouble sleeping the night before the biggest trip of his young life, a four-day journey with his entire junior high school class to a lush volcanic island known here as the "Hawaii of Korea."
The trip was the students' last chance for all-out fun before preparing for grueling, all-important university entrance exams, and Si-chan was excited. While packing, he kept saying, "'What am I missing?'" his father, Joseph Park, recalled.
What he was about to discover would change everything for hundreds of lives.
[sociallocker]
He gave his son some advice: Know where the life jackets are, "just in case." And if anything happens, "just do what those in charge say."
That's exactly what the kids and other passengers did, and many died as a result when the five-story-high Sewol ferry turned upside down and sank in just a few hours on April 16. Most of the 304 people dead or missing were teenagers trapped in cabins where the crew had ordered them to stay.
The tragedy has prompted Koreans to question the very foundations of their society.
"We are realizing the ties that bind our society together — justice, ethics, our moral system of social security — are not as strong as we thought they were," said Changsu Han, a psychiatrist at the Korea University College of Medicine, which treated more than 70 students who survived the ordeal.
The victims "listened to authorities, and did as they were told," he said. "They put on their life vests, and waited to be rescued. … And many of them are waiting there still — at the bottom of the sea."
The ferry could transport nearly 1,000 people along with hundreds of cars and dozens of shipping containers. But the company that loaded the vessel has said it was carrying more than 3,600 tons — three times as much as the safety limit in a regulator's report.
The ferry sailed at 9 p.m. An hour later, the kids watched a dazzling fireworks display.
Ko Kyoung-jin, a truck driver who took the Sewol three times a week to deliver packages to a post office, heard the students' loud Korean pop music blaring above his cabin.
Lim Hee-min sent a text message to his son. "When are you going to go to sleep?"
"A little late," Hyun-jin replied.
"OK … good night," his father wrote. "I miss you, my baby."
The next morning, strong winds were blowing across the water. Hyun-jin took photos of himself wearing a gray hoodie. When he sent the last one to his father, at 8:52 a.m., Jeju was about three hours away.
On the bridge, the third mate ordered the helmsman to make a 5-degree turn. Tracking data show the ship made a 45-degree turn instead. It is unclear why.
Ko, the driver, he heard several shipping containers crash down. Students screamed. In the cafeteria's kitchen, pots and pans, utensils and chairs crashed.
"Don't worry, there's no chance it will sink," said a truck driver on deck with Ko.
The ship was leaning to its left, making it difficult to walk. Student Park Su-hyun began filming with his cell phone from his bunk bed, as other kids cracked jokes.
A boy says, "it's going to be … hilarious if we upload this on Facebook." Another adds, "It's like we're becoming the Titanic." One by one, though, the students put on life jackets.
At one point, somebody takes Su-hyun's phone and films him. He says, "I love you Mom. I love you Dad. I love you both."
___
"Please notify the coast guard. Our ship is in danger. It's listing right now," a crew member said in a radio message at 8:55 a.m.
The messages that boomed through the ferry's loudspeakers told people to stay in their cabins, which were becoming increasingly difficult to escape.
Hyun-jin sent his father a blurry image of students in life vests lying on the floor. Jolted, Lim Hee-min called immediately.
"Dad, I think the ferry is sinking."
And then the line went dead.
Three helicopters plucked people off the right-hand side of the ship, which by then was facing the sky. Inflatable Zodiac rescue rafts raced through the waves.
Some crew members tried to save passengers, including a woman who gave away her own life jacket and died. But the captain was among the first to escape. Video footage shows him sliding down a rope to board a coast guard vessel.
Capt. Lee Joon-seok later said he had been reluctant to issue an evacuation because of the freezing water and strong currents. Lee said he issued an evacuation after about half an hour, but surviving passengers have said they never heard one.
___
In Ansan, the school issued a text message to parents at 11:06 a.m., saying all students had survived. They were being brought to a school gymnasium in Jindo, a town five hours away from Ansan.
But when Joseph Park arrived, people were in tears. A whiteboard listed confirmed survivors. Park Si-chan's name was not there.
There have been no miraculous rescues — just agonizing waits for heartbreaking news.
On April 19, Park Su-hyun's father, Park Jong-dae, posted a letter to his son online: "I sincerely kneel down and beg your forgiveness, as a helpless father who made you be born in this stupid country."
On April 22, a body was brought to port matching Su-hyun's description. His parents pulled back the white sheet. Park's wife, Lee Young-ock, broke down in tears.
"My son, my baby. I love you," she whispered, leaning over to hug her boy one last time.
___
Searchers have recovered 284 bodies and continue to search for 20 more. The victims include 250 of the 325 students.
Investigators are still struggling to determine what happened but say the crew was negligent. Prosecutors on Thursday indicted 15 surviving crew members and police have detained the head of the ship owner. The government promises new monitoring and regulations.
The disaster is a shock to this country, a former backwater that transformed itself into Asia's fourth-largest economy. Many now question how far South Korea has really come.
"Down deep, most Koreans knew their claims of rapid development were exaggerated," Tom Coyner, a Seoul-based editor of the Korea Economic Reader. "But few expected an incident of the scale of this tragedy to be rubbed in their faces as much as it has."
At Danwon High, black hearse limos drive down the hill out of the school.
Over coffee at a cafe nearby, Park Jong-dae removes his glasses. He rubs his temples, and speaks of those critical last moments in which his 17-year-old son, Park Su-hyun and others might have escaped, but were told to stay put.
"The crew ordered them to stay inside the ferry. They told them they were safer there," Park said. "That's what I cannot understand. Our children didn't die in an accident, OK? They were murdered."
Divers have recovered the bodies of Lim Hyun-jin and Park Si-chan. Si-chan's father said he regrets the advice he gave his son to blindly follow authorities.
"It's important, in Korean culture, to listen to adults. My son listened well. He was obedient. And I praised him for that," Joseph Park said. "But if I could talk to him again, I'd tell him: Listen to adults, but it is equally important to think for yourself, to make your own decisions in life."
[/sociallocker]
Comments
comments