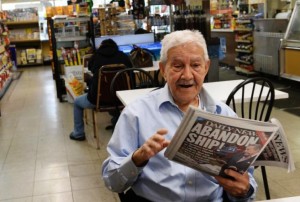 Many doctors are considering a man named Miguel Cruz to be a walking and driving miracle. He is about to turn 103 years young this summer, and just had open-heart surgery.
He's a pool shark who drives himself almost every day, talks politics and sports with his "crew" at his local restaurant, he washes his own laundry, pays his own bills, and loves hanging out on Facebook.
He was born the same year that New Mexico and Arizona were admitted into the US as states.
The New York-Presbyterian cardiologists who recently replaced a narrowed valve to keep his heart in pristine shape consider him a miracle.
"He is in better shape than many 70- and 80-year-olds we see." said Dr. Susheel Kodali
Other than having two cataracts removed when he was 86, and some arthritis in his back, Cruz is blowing the minds of doctors everywhere. He has no cancer, no Alzheimer's, no diabetes or clogged arteries, and virtually no pain anywhere else in his body.
With the heart valve procedure behind him (he had his very first visit to a cardiologist was at the youthful age of 98), his young daughter, Sonia Krauss (66 years young), a teacher, jokingly commented, "What could he possibly die from now?"
Miguel Angel Cruz was born in Quebradillas, Puerto Rico, on Aug. 19, 1911, according to his birth certificate. One of seven brothers and a sister, he arrived in New York by boat in 1936.
He called Brooklyn his home for more than 60 years and he retired from the New York City Housing Authority in 1979, after 25 years of faithful service.
He also worked as a bookkeeper, drove a taxi, and as a Spanish interpreter for the city courts. A World War II vet, he and his late wife, Consuelo, married in 1946. The couple soon had a son, Pedro, now 67, and a daughter, Sonia, raised them in the Marcy Houses, and sent them to college.
He also put himself through Baruch College at night, graduating in 1955 with a degree in business administration.
Amazingly Vibrant 102-Year-Old Man Speaks From Hospital
Pedro Cruz remembers his dad as the guy "always fixing someone's television set or taking them to the airport, or giving them advice on what to do with their taxes. He would help everybody."
More than a half-century later, Cruz shows no signs of frailty, is up on the news, and is loving life.
According to many longevity experts, people can expect to live to the age of 80 if they do all the things their doctors tell them: Don't smoke, exercise, eat healthy and drink in moderation.
But to live until 100 or more like Cruz — and live well — is becoming increasingly common.
Miguel Cruz is looking forward to his family gathering at Lola's Latin Bistro in Metuchen for his 103rd birthday. To stay in shape, he jogs up and down his apartment hallway and has a busy social life.
When he was asked the secret to his long life, Cruz will tell you: "A loving family, good friends and always staying busy. Don't sit around."
Comments
comments