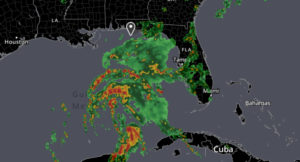 The National Hurricane Center increased the percentages for the development of two tropical cyclones early this morning. There is now a 90% chance of both storms becoming tropical cyclones in the gulf coast.
The first storm, named Invest 93L currently has a broad area of low pressure located near the east coast of the Yucatan Peninsula and is growing rapidly. The hurricane center predicts the formation of a tropical cyclone in the next 48 hours.
The second storm, named Invest 92L, is currently 550 nautical miles to the east southeast of Trinidad, it now has sustained winds between 35-45 knots. Like Invest 93L, NHC is reporting that there's a 90% chance this second storm will turn into a tropical cyclone in the next 48 hours.
Both cyclones might then merge together, forming a super-cyclone and target Northwest Florida, The Weather Channel is reporting, "A low that tracks toward the Florida Panhandle would increase the threat of heavy rain there and in other parts of the Southeast."
Accuweather is now reporting that residents along the Gulf Coast should be preparing for possible flooding downpours, rough seas and locally damaging winds as the system organizes into a tropical storm.
Please help spread the word! 
Comments
comments