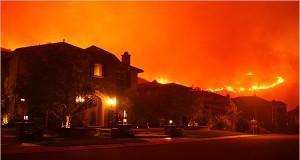 It is clear that the majority of large Southern California fires that have been spreading over the past several years have been direct results of recent years were found to have human causes.
There was a fallen power line in 2007 near San Diego that set off a fire that scorched nearly 200,000 acres and killed two people.
In 2009, small sparks from a weed cutter are thought to have led to an 8,700 acre fire in Santa Barbara County that torched 80 homes.
In one of the largest fires so far that occurred earlier this month, an illegal campfire started in Rancho Cucamonga grew to 2,700 acres.
There have been many other seemingly wildfires that have been caused by chains dragging behind cars and throwing off sparks, smoldering cigarette butts, welding tools, errant gunfire, and arsonists.
Investigators now believe they have discovered what has caused the 10 major fires that are currently sweeping through roughly 20,000 acres north of San Diego.
[sociallocker]
Experts say it's highly likely that humans are to blame for the current wildfires ravaging San Diego . Two people were arrested north of San Diego on Thursday on suspicion of arson, though it's not clear if they are thought to be connected to this week's big fires.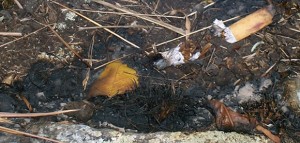 Unlike remote parts of the world where natural events like lightning strikes are prime sources of wildfires, in southern California, such fires are almost always started by people. Ninety-five percent have a human cause, according to Cal Fire, the state's firefighting agency.
The situation may worsen in the face of expected population growth. Metropolitan San Diego's population is expected to reach nearly 4.5 million by 2050, over a million more than today.
"The probability of fires is increasing because people are increasing," said the U.S. Geological Survey's Jon Keeley, who has spent years studying the history of California wildfires.
There are now many wildfire experts see a silver lining to these horrible stats: If people are mostly to blame for wildfires, they can do something about it.
"Weather doesn't cause fires–weather just causes a fire to burn," said Cal Fire spokesman Daniel Berlant. "It's the people that have the role of actually preventing that fire."
His agency, along with the U.S. Forest Service, the National Park Service and other land managers that deal with wildfires, is leading a public relations campaign urging Californians to reform outdoor habits.
Starting late last summer, the agencies ran "One Less Spark" ads urging people to avoid using power tools during times of high fire danger, extinguish camp fires, and avoid parking cars in tall, dry grass.
In the months ahead, the same coalition plans to use billboards, public service announcements and television commercials to spread messages reminiscent of Smokey the Bear's line: "Only you can prevent forest fires."
Other measures have been more dramatic. For the first time last year, San Diego County's electrical company started shutting down power to electrical lines in places where extreme fire danger prompted fears they could spark blazes.
Last Wednesday, San Diego Gas and Electric put 1,200 customers in the dark during the peak of the Santa Ana winds, said company spokeswoman Allison Zaragoza.
The intentional blackout grew out of the fatal 2007 San Diego fire. The company has since installed more than 140 weather monitoring stations to watch for risky fire conditions and has replaced 3,500 wooden power poles with fire-resistant metal ones.
One of the thorniest issues around mitigating fires is less resolved—deciding where people should build homes. Richard Halsey, author of "Fire, Chaparral, and Survival in Southern California," has watched San Diego area houses built on forested hilltops and in canyons ripe for destruction by a wildfire.
In some cases, such homes are rebuilt after they burn down.
"You look at it and you scratch your head. Why would anybody build their houses there?" said Halsey, director of the CaliforniaChaparral Institute, which works to protect the fire-prone chaparral ecosystem that covers Southern California's hills.
The flammability of Southern California in the future could hinge partly on how the region grows.
A study involving both the U.S. Geological Survey's Keeley and the Conservation Biology Institute's Syphard found that sprawling "leapfrog" development—in which subdivisions continually pop up at the edge of the woods, beyond existing developments—would lead to more houses lost to fire in Southern California.
Dense development that fills in the gaps where housing already exists would be the least hazardous approach, according to their models. That's in part because as more land in a certain area gets paved over, there's not enough vegetation left to fuel a wildfire.
That could help explain a slight drop in the number of fires in Southern California recent decades, as development in Southern California shifts from dramatic sprawl to more compact growth, Keeley said.
[/sociallocker]
Comments
comments