"I wanted to do something fun for the city of San Francisco, something that would get people excited."
There is now a mystery millionare who is posting clues about random cash drops on Twitter using the name @HiddenCash
He's already given away over $4,000 in the past few days alone. He's so intent on remaining anonymous that he would only say he's somewhere between 35 and 45 years old.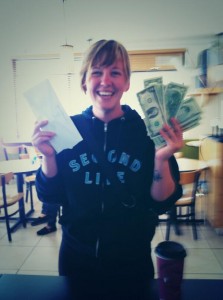 He also did say that he's a successful real estate investor between 35 and 45 years old, but so far, he is going to great lengths to remain anonymous. More than $4,000 has been given away since Thursday and more drops are planned for Wednesday in San Jose.
Alfie Estrada was one of the lucky winners to find a cash-filled envelope. Estrada said he found a $20 bill marked with the hashtag #hiddencash at the Lake Merritt BART Station in Oakland. He said that he 'paid it forward' through an online donation.
"I donated it to AIDS/LifeCycle. It's one of my favorite charities," Estrada commented.
The shy millionaire only has one request for anyone who finds his money – he wants the people who find the cash should post a picture of themselves on Twitter with the green.
Comments
comments