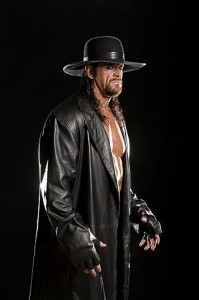 The Undertaker did not die…
One of the most legendary WWE superstars, The Undertaker, was recently claimed to be found dead in a Texas home, this is 100% not true, a complete hoax.
Empire sports recently claimed that;
"It has been just under a week since the WWE Hall Of Famer Ultimate Warrior passed away so suddenly. We just received word that another legend will be joining him. Mark "The Undertaker" Calaway was found in his Houston home dead late last night by his wife Michelle McCool.
Calaway who suffered a severe concussion early on in his WrestleMania match with Brock Lesnar was taken to a hospital right after and kept over night. After being released Monday Calaway was told by WWE CEO Vince McMahon to go home and rest after receiving a severe concussion early in his WrestleMania 30 match with Brock Lesnar.
Calaway wrestled the remainder of the match with that concussion while relying on Brock Lesnar to carry them both and protect The Undertaker inside the ring. After seeming fine for a few days after going home Calaway was found dead in his bedroom by his wife…."
Again, this story from Empire Sports is NOT TRUE
Comments
comments