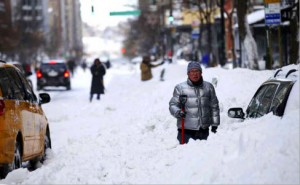 A truly historic blizzard has now begun to blast the Northeast, there have already been 500 flight cancellations and warnings of massive delays to rail and ground traffic, as well as school closings and power outages.
New York City just announced that only emergency vehicles are allowed to drive on the roads – effectively shutting the entire city down.
In the first few days alone the forecast is calling for several feet of snow to fall all over the east coast of America.
New York State Governer Andrew M. Cuomo urged the millions in the path of the storm to consider staying home Monday, noting that commuter rail, buses and subways may shut down before workers leave their workplace for home.
"As a result, commuters should consider working from home on Monday if possible to avoid disruptions from likely road and public transportation closures," Cuomo remarked in today's statement.
[facebook][tweet][digg][stumble][Google]
[one_third] [/one_third] [one_third] [/one_third] [one_third_last] [/one_third_last]
Comments
comments