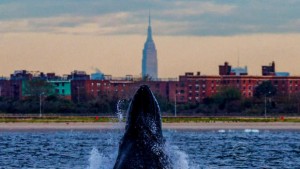 The New York City waters are now home to some incredible new tourist attractions, besides the Statue of Liberty, Ellis Island, and the greatest skyline in the world.
The historic monuments are now taking a back seat to a new development in nature – humback wales…and lots of them!
Just 4 miles off New York City's Rockaway Beach, a 35-foot humpback whale takes the breath away from a boatload of whale watchers.
Humpback whales are now in the waters around New York City, and their numbers are continuing to rise.
The uncommonly high numbers of whales in New York are certainly giving photographers plenty of material. But maybe more importantly, they're allowing a whole new generation to make the acquaintance of these majestic mammals.
The sightseeing trips have become so popular in New York that the company that runs them is extending them for another month.
Could this be caused by rising sea levels or by cooling waters?
Comments
comments