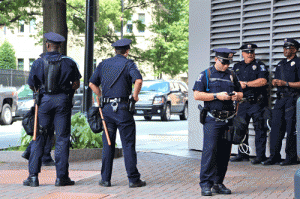 The City Council in Charlotte is voting today on whether or not to spend $7 million to equip all CMPD officers with body cameras.
The city is following in the footsteps of many other local and state departments around the country in equipping officers with non-stop body cameras. New cameras have been a major push throughout America following the recent police brutality cases in Ferguson and NYC.
If the new CMPD cameras get voted in, installation and training for the cameras will begin in March, with an effectiveness review to be conducted in September.
The city plans to pay for the cameras using nearly $6 million in capital reserve funds and with a $250,000 donation from Charlotte-Mecklenburg Police Foundation. Additional costs would be paid for using assets forfeiture funds and future operating budgets.
CMPD has already had cameras installed in police cars since 1997.
The new body-camera policy for CMPD would be specifically required to record all traffic stops; any instances when an officer stops and frisks someone; uses of force; searches of property or people; and anytime a citizen requests it.
Do you think the new body camera policy should pass?
[facebook][tweet][digg][stumble][Google]
Comments
comments