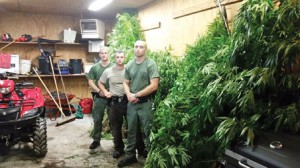 West Virginia state troopers of the Mercer, Monroe and McDowell county detachments participated in a joint, marijuana eradication effort this week with the help of troopers in the West Virginia State Police helicopter and officers with the state Division of Natural Resources to seize approximately $15 million worth of marijuana plants.
Officers in the Princeton division confiscated approx. 1,700 plants during a two-day operation in Mercer County Wednesday and Thursday.
The estimated street value of the plants is more than $4 million. One fully mature plant is valued at $2,500.
The eradication efforts are undertaken each year by the state police. All marijuana plants confiscated are destroyed.
Most of the plants taken during the entire duration of the operation were discovered in the Beartown area of McDowell County. Some of the tallest plants measured over 15-foot tall – growing in the middle of acorn field that had an electric fence around it.
The total operation hauled in thousands of plants with an estimated street value of $15 million – about $10-$11 million came from McDowell County.
Most of the information was gathered using helicopters in the air, but troopers also relied on tips from the public to locate and destroy pot plants during the on-going eradication effort.
[facebook][tweet][digg][stumble][Google]
[one_third] [/one_third] [one_third] [/one_third] [one_third_last] [/one_third_last]
Comments
comments