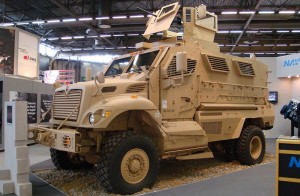 Since 9/11, the US government has dumped millions of dollars worth of military equipment into the hands of law enforcement, including agencies in the greater Charleston region.
Local police departments around Charleston have recently joined the Pentagon's 1033 Excess Property Program and are now equipping themselves with surplus military vehicles, helicopters, night-vision goggles, military rifles, body armor and grenade launchers.
There have been many critics of the program that have said it will militarized the police, which, they claim, will heighten tensions and fuel public violence.
Charleston County Sheriff Al Cannon, whose agency has repeatedly utilized the 1033 program, is aware of accusations – from both the political left and right – of police brutality and overreach, and of the militarization of law enforcement. But he thinks it's all overblown.
"This militarization thing is straw man," he commented. The concern comes from a "growing distrust and anger directed at government in general. What institutions do people trust? The military and law enforcement generally have been ranked at the top. But because of distrust for government, it's having an effect on the way people view the military and law enforcement."
Please help get the word out; 
[facebook][tweet][digg][stumble][Google]
What do you think about equipping local police with military gear? 
Comments
comments