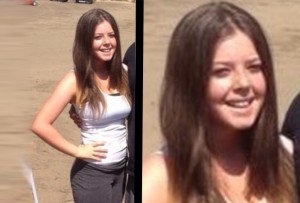 Taylor Bulley (15 years old) has just gone missing. She was last seen in Northwest Bakersfield and the Bakersfield Police Department is now calling on the public to help.
She was last seen on Saturday at around 9 a.m. in the area of Aurora Valley Avenue.
The Bakersfield Police Department describe her as:
White female
5 ft. 2 inches tall
Weighs around 108 lbs.
Light brown hair and blue eyes
They are now saying that she is considered very at-risk, due to her age, and manner by which she disappeared.
If you have any information about where she might be, or if you know anyone who might have information, please call the Bakersfield Police Department at (661) 327-7111
UPDATE (8:30pm): Taylor has safely returned to her family.
[facebook][tweet][digg][stumble][Google]
[one_third] [/one_third] [one_third] [/one_third] [one_third_last] [/one_third_last]
Comments
comments