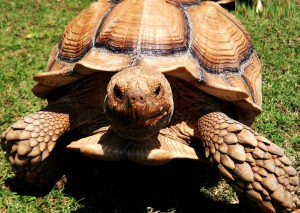 A massive 50-pound African spur thigh tortoise was just discovered by Savannah police this past week. They named the large tortoise Tallulah after it was discovered near 32nd and Dieter streets while scaring nearby residents.
Coincidentally, a 3 foot python was also discovered this past week in an apartment bathtub in downtown Savannah, animal control named the python 'Caa'.
Both Tallulah and Caa are now going through a mandatory five-day veterinary and behavioral observation by Savannah's Animal Control department.
At this point, the plan is for the incredible African Spur-Thigh tortoise, Tallulah to go to a licensed animal care facility for use in educational demonstrations.
The python, Caa will be available for adoption once it is deemed safe.
Please share;
[facebook][tweet][digg][stumble][Google]
[one_third] [/one_third] [one_third] [/one_third] [one_third_last] [/one_third_last]
Comments
comments