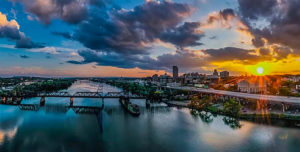 Albany has just been ranked among 2020's Top 100 Best Places to Live according to Livability.com, outpacing over 1,000 other cities with populations between 20,000 and 1,000,000 in this data-driven ranking.
This year's 2020 rankings were driven by each American city's "Opportunity Score," which consists of several variables centered around the economy, job opportunities and growth. While Livability factored in obvious data points, such as unemployment rates, density of jobs and disposable income, other variables played a part in calculating each city's opportunity score — like the percentage of households with high-speed broadband. This year's ranking also factored in two exclusive data points from Emsi that measured the growth of high-paying jobs and overall wage growth. When combined, these points offer a snapshot of the opportunity landscape of each city, and the potential for businesses and residents to thrive and grow.
More than 1,000 cities with populations between 20,000 and 1,000,000 were ranked on 40 data points measuring economics, housing, amenities, infrastructure, demographics, social and civic capital, education and health care. The eight scores were weighted based on an exclusive survey conducted for Livability.com by Ipsos Public Affairs, a leading global market research firm. Sources included the best public and private data available from organizations like the U.S. Census Bureau, Emsi and Esri.
Albany made it to the #16 spot on the list with the following description:
"There's a reason why Frank Sinatra didn't sing his famous tune about making it in Albany, NY — because it's way easier to earn a living here. And a lot of people agree, which is why Albany had a population surge of over 17,000 people between 2010 and 2018. The capital region is particularly attracting immigrants because of a tight-knit network of immigrant families who already live there as well as a variety of quality job opportunities that don't require college degrees. 
Plus, the cost of living in Albany is manageable: Just compare a $170,000 average list price on a home in Albany to a whopping $1,550,000 list price in Manhattan — a much easier pill to swallow when trying to start out a career or put down roots."
The full list of the 2020 Top 100 Best Places to Live is featured on Livability.com, along with each city's LivScore and some of the specific attractions, activities and amenities that make it a great place to live.
Comments
comments