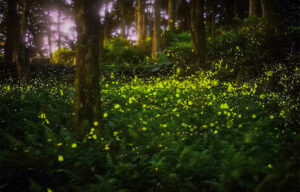 Don't miss your chance to witness the mesmerizing spectacle of rare synchronous fireflies at Congaree National Park!
You have just one week to enter the lottery for an opportunity to observe this extraordinary natural phenomenon.
Of the thousands of firefly species scattered across the globe, a mere three in North America exhibit synchronized flashing patterns. For a brief two-week period between mid-May and mid-June, Congaree National Park becomes a haven for these rare group of insects.
Given the massive draw of this magical event, the park enforces ticket requirements and limits nightly attendance to 130 vehicles. To ensure fairness, the National Parks Service has established a lottery system for eager visitors hoping to catch a glimpse of the synchronized fireflies.
The lottery kicked off on Thursday and will run until April 12, 2023, at 10 a.m. Each household is permitted one application, accompanied by a nominal $1 deposit.
Mark your calendars for April 17, 2023, when the lucky lottery winners will be unveiled. The awe-inspiring firefly viewing events are scheduled for May 13-16 and May 19-24, 2023.
You can enter they Firefly Viewing Lottery here.
One of South Carolina's most-anticipated natural phenomena will light up the night beginning in mid-May, but chances to see it might be slim.https://t.co/4yeVMfUpmb

— Shamira McCray (@shamiratweets) April 2, 2023
Comments
comments