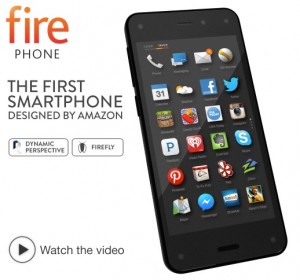 A third major smartphone maker has just entered the ring to compete against Apple's iPhones, Google's Androids. Amazon has just announced that it will be leveraging its sprawling array of apps, entertainment, and storage services to attract customers to its new Amazon Fire Phone.
Jeff Bezos (CEO of Amazon) commented that the new Fire Phone owners would be granted unlimited photo storage through Amazon's cloud service, free access to Amazon's Prime Music streaming service, and incentives on Amazon's audio book marketplace Audible.
The Fire Smartphone will also come with a free year of Amazon Prime, the company's $99-a-year service that gives customers access to unlimited two-day shipping on physical products, streaming movies and music, and e-books. If customers already have a subscription, Amazon will give them an additional year for free.
The anticipated announcement of the phone was given during a special event in Seattle to 300 select guests. Amazon's extension of its impressive hardware line further pits the e-commerce giant against rival tech titans like Google and Apple, as well as giving Amazon another way to lock customers into its brand ecosystem. The company's strategy has remained the same for all of its hardware: sell as customers affordable devices so they can use to them to shop from Amazon.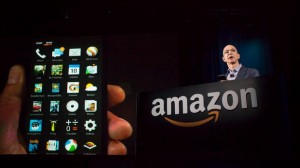 Amazon's new Fire Phone are even competitively priced at $199 for the larger 32GB model, with a two-year contract, or $649 without. This falls in line with other similarly priced high-end smartphones like Samsung's Galaxy S5 and Apple's iPhone 5S.
The phone will pull together video features like X-Ray, a new search feature called Firefly, a very impressive customer-support service called Mayday.
It will also come with some very impressive hardware that may actually be better than the hardware that will be included on the new iPhone6;
Processor
2.2GHz Quad-core Snapdragon 800 CPU, with Adreno 330 GPU and 2GB of RAM
Display
4.7″ HD LCD display, with 1280 x 720 resolution at 315 ppi, 590 cd/m2 brightness (typical), 1000:1 contrast ratio (typical)
Cameras
13 MP rear-facing camera, multi-frame HDR, auto focus, optical image stabilization, f/2.0 5-element wide aperture lens, LED flash
2.1 MP front-facing camera
Find out more details on the new Fire Phone, including an interactive video here on Amazon.com
Comments
comments