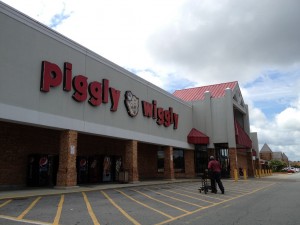 The distribution center for South Carolina's largest grocery chain, the Piggly Wiggly, will be liquidating its inventory over the next three days.
The national grocer announced in November that it was shutting down its 612,000-square-foot distribution center in Jedberg near Summerville, and has since signed a long term lease with Atlanta-based Agro Merchants. Its move-in date is set for August, according to Agro, which is likely the reason Piggly Wiggly is packing up.
All food items that are currently being stored at the center at 1125 Newton Way will be sold for up to 70% off retail prices, from 10 a.m. to 6 p.m. Thursday (6/19) through Saturday (6/21). The sale is open to the public.
Grocery items, cleaning supplies, health and beauty products, frozen foods, fresh produce, and tobacco products will be up for grabs.
Several months ago, Piggly Wiggly partnered with New Hampshire-based C&S Wholesale Grocers to supply groceries to its remaining stores across South Carolina and Georgia, which are still dwindling.
Piggly Wiggly sold 29 of its stores, including more than half of those in the Lowcountry, to Bi-Lo and Harris Teeter in October. Harris Teeter picked up seven in the Charleston area for an undisclosed price. Bi-Lo acquired 22, which included five locally, for about $35 million.
If you go to the liquidation sale – comment below and tell us about the deals you find! 
Comments
comments