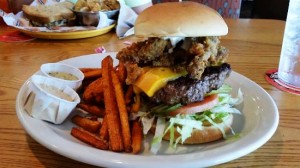 Bad Daddy's Burger Bar has just opened up it's fifth location in the greater Charlotte region at the Mooresville Town Square. The other four locations are; East Blvd. in Dilworth, Birkdale Village in Huntersville, Ballantyne Village in Ballantyne, and in the Charlotte Douglas Airport.
Continued growth and popularity in the Charlotte market may mean future locations in Fort Mill, Gastonia and SouthPark, but executive chef and owner Frank Scibelli is cautious about overcrowding the market. He's also considering locations in Raleigh, and the restaurant is being franchised in other states including Colorado.
"I really like organic growth. I don't want to get too far ahead of ourselves," remarked Scibelli.
The once small burger joint is now also getting national attention for some of it's more interesting creations. It was just featured in Nation's Restaurant News for its edamame cashew burger. They were also recently featured in the Food Lover's Guide to Charlotte as having one of the best burgers in the city.
Have you been to Bad Daddies? What do you think of them?
[facebook][tweet][digg][stumble][Google]
Comments
comments